Profile
Production Engineering
The field of specialization Production Engineering is represented at the TU Dortmund University by the Institute of Machining Technology, the Institute of Forming Technology and Lightweight Construction, the Institute of Mechanics, the Chair of Plastics Technology and the Chair of Materials Technology. The profile, which is also offered in the B.Sc. in Mechanical Engineering, can be continued and intensified in the Master degree program. Production technology covers a wide field of activity for engineers. After the design of components, machines, vehicles, plants, etc., the manufacturing of goods must be realized through the use of suitable production processes.
Knowledge of the various manufacturing processes is a fundamental prerequisite for this. Only through an understanding of the interrelationships of the effective processes of the production processes can manufacturing plants be designed according to the set requirements. The task of production engineering is the economic production of goods. In addition to the processes and machines used to process the goods, the focus is also on the questions of organization and costs of the operational processes.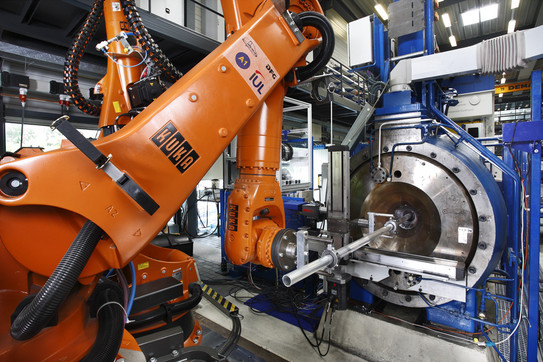 Usually, goods consist of several components that have to be manufactured by different production processes. The selection of the most suitable methods requires comprehensive knowledge of the manufacturing processes. Of particular importance, however, is also an understanding of the process sequences and the active processes that occur. This ensures that the methods learned can be applied to very different processes. The contribution that production engineering can make to industrial progress thus also depends to a large extent on bringing together different specialist disciplines. Cooperation with other disciplines, such as computer science, microelectronics, electrical engineering, and materials and process engineering, is of particular importance for further development.
The profile consists of a compulsory and an elective part. More detailed descriptions of the selectable modules can be found in the Module Handbook Master in Mechanical Engineering.
Competences and job profiles
The career opportunities for broadly trained production engineers are very diverse and cross-sectoral. Areas of application include manufacturing/production, organization/technical services and work preparation. The range of possible positions includes the production engineer in the direct action of manufacturing to consulting engineers.
Specifically, the following positions, for example, may be achieved:
Manufacturing engineer, production planner
Production manager
Management assistant
Manager in small and medium-sized enterprises
Scientist in research and teaching
Industrial advisor