Profile
IT in Production and Logistics
Modern production and logistics systems are inconceivable without computers. Information technology supports processes at all levels, from the immediate processing or handling of a workpiece to the global supply network. This results in the demand for flexible, maintainable and robust IT systems, whose creation, adaptation and operation must be planned, controlled and in many cases also implemented in detail and for which engineers are responsible.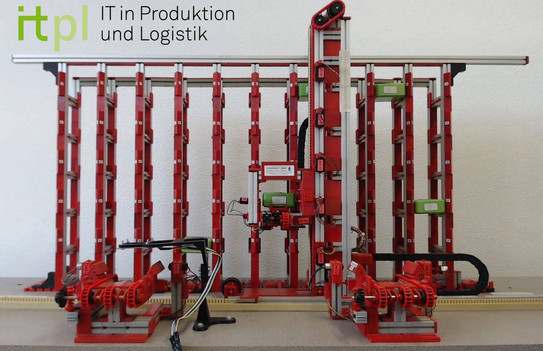 The specialization IT in Production and Logistics is offered at the Technical University of Dortmund by the Department of IT in Production and Logistics. The elective modules of the profile are represented by the Chair of Corporate Logistics, the Chair of Materials Handling and Warehousing, the Chair of Work and Production Systems, the Chair of Industrial Robotics and Production Automation, the Institute of Machining Technology, the Institute of Forming Technology and Lightweight Construction and the Department of Machine Elements.
The mission of the IT in Production and Logistics specialization is to train engineers who combine knowledge and experience of state-of-the-art computer technology with solid engineering knowledge. In the IT-oriented sub-modules, students learn both the procedures for the development, introduction and maintenance of software as well as how to classify current basic technologies of information technology and assess them in terms of cost, benefit and suitability for specific applications. Students in the profile also gain experience in their own elaboration of information technology systems, from which they can draw when planning complex systems. The engineering knowledge from the Bachelor's program is deepened in the elective modules, each of which covers production engineering and logistics topics with an IT connection.
The Department of IT in Production and Logistics maintains intensive relationships with industrial companies, IT companies and research institutions in Germany and abroad. The close cooperation offers students the opportunity to participate in state-of-the-art developments, for example in the context of their final thesis, and to establish direct contacts with future employers or for stays abroad.
The profile consists of a compulsory as well as an elective area. For more detailed descriptions of the selectable modules, please refer to the Module Handbook Master in Mechanical Engineering.
Competences and job profiles
Specialists who are well versed in current fields of information technology are always in demand - even in times of crisis. Even more important to the companies is the engineer who understands and can plan the production-technical as well as logistical interrelationships, but at the same time professionally masters the design of the associated information technology.
Career opportunities exist in all industrial sectors as well as in the service sector of logistics. In addition, there are excellent opportunities in management consulting, where the competence combination of engineering knowledge and information technology is in broad demand.