Engineering Allianz Ruhr (EAR)
Three universities for Germany's strongest mechanical engineering cluster
With 12,520 students, 76 professorships and 920 employees from science, administration and technology, as well as an unmatched diversity of subjects, the association of the mechanical engineering departments of the TU Dortmund University, the Ruhr University Bochum and the University of Duisburg-Essen (UDE) is one of the largest of its kind in Germany. Through the EAR, the mechanical engineering departments of the three large universities in the Ruhr region not only combine their strengths locally in cooperative research activities, but also make a strong joint appearance internationally. A joint study area is being created that is among the top nationally and internationally.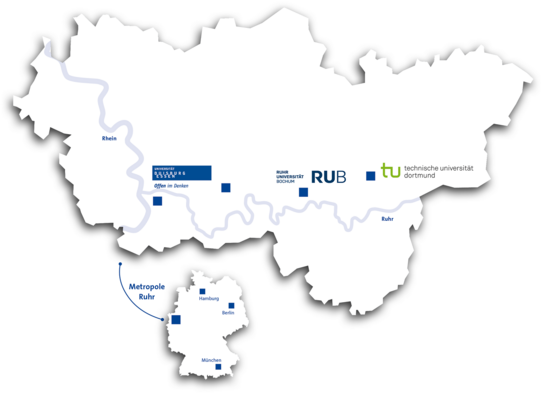 One of the strongest mechanical engineering clusters in Germany is emerging along the Ruhr railroad, without losing the special features of the individual locations. The diversity of offers and synergies in research and teaching are to become more visible for applicants, students, scientists and potential research partners.
The researchers involved are among the world's best in many disciplines; they work with leading international institutions and also with world market leaders.
Students and doctoral candidates benefit from the lively exchange with leading universities and institutes on all continents.
The Mercator Research Center Ruhr (MERCUR), founded in 2010, promotes cooperation between the Ruhr University Bochum, the TU Dortmund University and the University Duisburg-Essen, which have been linked in the University Alliance Ruhr (UA Ruhr) since 2007. With its program lines, MERCUR supports scientists, institutes, faculties and the administrations of the three universities in networking across universities, especially in research, but also in teaching and university management. In addition, MERCUR initiates projects in the region with which it improves the framework conditions for science in the Ruhr region and promotes its exchange with business and politics.