Profile
Materials/ Quality Control
The profile from the B.Sc. Mechanical Engineering can be further intensified in the Master's programme. Master's students can specialise in materials technology, surface technology, joining technology and materials and component testing or failure analysis. Depending on the type of course, the teaching content is taught by lecturers in the form of a lecture or a seminar. In individual courses, students work independently on case studies with practical problems and present the results.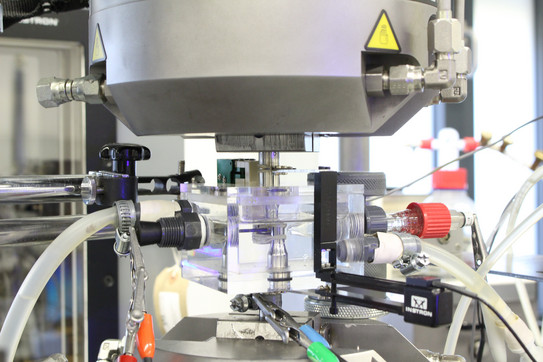 In addition to building up theoretical knowledge, students have the opportunity to get to know the facilities in the field of process engineering and materials analysis in the form of specialised laboratories and master's theses, also in connection with research and industrial projects. In this way, knowledge of materials and processes in research and application can be completed.
The profile consists of a compulsory and an elective part. For more detailed descriptions of the selectable modules, please refer to the Module Handbook Master in Mechanical Engineering.
Competences and job profiles
After completing their studies, students of materials science and materials engineering can work in various fields. The spectrum of applications ranges from research and development to engineering, production and quality assurance. In industry, materials engineers work wherever materials are produced and processed, which opens up a broad interdisciplinary field of tasks, such as:
In materials development, the focus is on improving established materials and developing new materials and processing methods. Materials engineers deal with questions of performance, reliability and economic efficiency, as well as sustainability and environmental compatibility.
Questions regarding the choice of materials are clarified in cooperation with design engineers and production technicians.
In destructive and non-destructive material and component testing, the behaviour is comprehensively characterised from an application perspective down to the atomic scale using mechanical, thermal, electrical, chemical, acoustic and other measuring methods as well as microscopic analysis techniques.
In manufacturing technology, materials engineers work on the development of manufacturing and processing methods for materials and the quality testing and improvement of products. Typical techniques related to materials include shaping by casting and forging, powder metallurgy, injection moulding and extrusion, joining processes and surface modification.
In application technology, engineers strive to develop new applications for materials and to exploit the potential for lightweight construction through the substitution of materials or material-specific product design.
In consulting, advice is given with regard to optimised product-specific material selection. This includes the analysis of damage cases and the development of prevention strategies. Materials consulting offers the opportunity to work freelance, in the patent office or in companies. Furthermore, there are fields of activity in sales.