B.Sc. Industrial Engineering
The Bachelor of Science in Industrial Engineering trains specialists for interdisciplinary tasks and promotes the potential of future managers. Accordingly, the program is interdisciplinary in nature, with the faculties of business administration, electrical engineering and information technology, and mechanical engineering working closely together.
Through the study of fundamentals in mathematics, engineering and economics, in combination with specific technical knowledge, students gain the ability to solve technical and economic problems. Industrial engineers are characterized by their high analytical and organizational skills, which enable them to increase efficiency, quality and productivity in an economic and technical way. The education at the University of Technology is very practice-oriented and enables the deepening of theoretical knowledge through laboratories and internships.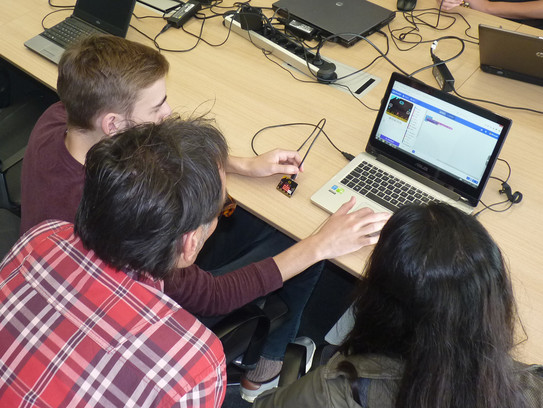 In the first four semesters, students are taught fundamentals and methods in the disciplines of mechanical engineering, electrical engineering, economics, natural sciences, statistics and computer science, with a focus on knowledge from engineering and economics.
After the four semesters, students have a basis in engineering science that enables them to make an informed choice for the subsequent specialization. In support of this, an information event on profile selection is offered in the fourth semester. The choice of profile is made by registering for the first profile-specific examination.
Starting in the fifth semester, the following three profiles are available for selection:
Students complete their studies in the 7th semester with a 12-week specialized internship and the bachelor's thesis.
Previous experience and internships
To review and supplement math skills, we recommend thePre-Course in mathematics.
The 3-week course is offered every year in Sep­tem­ber.
A total of 20 weeks of industrial internship is required - consisting of an eight-week basic internship and a twelve-week specialized internship. We strongly recommend that you complete the basic internship before you begin your studies. This will provide you with basic knowledge in the manufacture of workpieces and the assembly of subassemblies and products, as well as familiarizing you with the variety of different manufacturing processes. Further in­for­mation can be found on the pages of the Internship Office.
At a glance
Standard period of study Start of study
7 Semesters Wintersemester

Credits Language
210 ECTS German, partly English

Internship Application Deadline
8 weeks basic internship + 15. Juli (Admission restricted)
12 weeks specialized internship

Click here to enroll