Deutschlandstipendium - Die Bewerbungsphase hat begonnen!
-
Die TU Dort­mund bietet seit dem Winter­semester 2011/2012 das Deutsch­land­stipen­dium als Fördermöglichkeit für leist­ungs­starke und talentierte Stu­die­ren­de an. Hier finden Sie weiterführende Informationen.
Neben den erbrachten Studienleistungen und dem bisherigen Werdegang sollen beim Deutschlandstipendium auch gesellschaftliches Engagement, die Bereitschaft, Verantwortung zu übernehmen oder besondere soziale, familiäre oder persönliche Umstände berücksichtigt werden.
Die monatliche Fördersumme beträgt 300 Euro und ist unabhängig vom sonstigen Einkommen der Studierenden. Sie wird für mindestens zwei Semester und höchstens bis zum Ende der Regelstudienzeit gezahlt. Das Deutschlandstipendium wird je zur Hälfte von privaten Fördernden (Unternehmen, Vereine, Stiftungen, Alumni, Privatpersonen) und vom Bund bereitgestellt.
Bewerbungszeitraum: 15. August bis 15. September
Das Online-Bewerbungsportal finden Sie unter: http://dstip.tu-dortmund.de/
Weitere Informationen zum Deutschlandstipendium finden Sie unter: https://www.tu-dortmund.de/universitaet/freunde-und-foerderer/deutschlandstipendium/
Location & approach
The facilities of TU Dortmund University are spread over two campuses, the larger Campus North and the smaller Campus South. Additionally, some areas of the university are located in the adjacent "Technologiepark".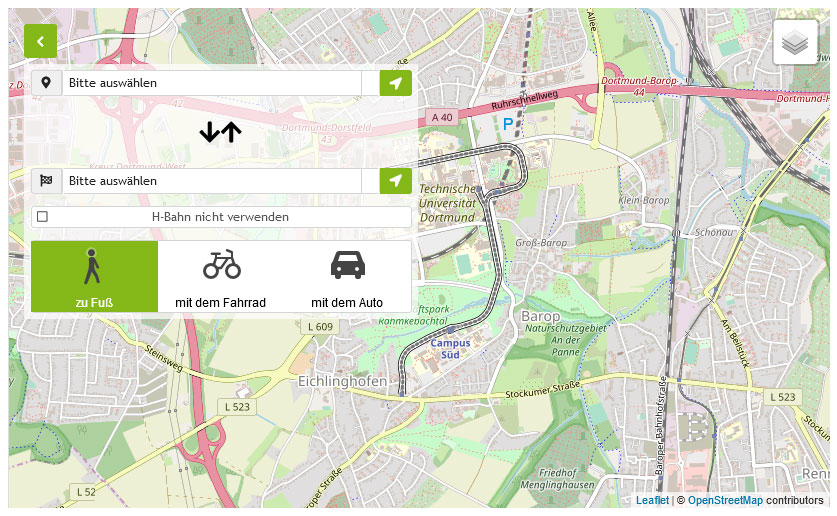 Zum Lageplan